Save as much as 50% in monthly energy cost!
Learn how your next HVAC system can pay for itself, and virtually cost nothing, just by making sure your current system is operating at its full potential.
Programmable Thermostat Settings
You can use the table below as a starting point for setting energy-saving temperatures, and then adjust the settings to fit your family's schedule and stay comfortable.

Quality Installations
Elliott Heating and Cooling will ensure that all new installations meet strict guidelines to make your HVAC system run efficiently, using less energy.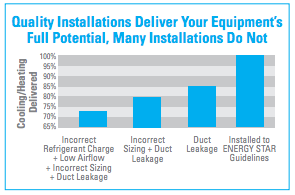 Thermostat

Keep your thermostat programmed at a optimal, stable, and comfortable temperaturesetting. (Higher in the summer and lower in the winter)

Regular Proper Maintenance

– Replacing your filters every month or as stated by the manufacture.
– Have your coils cleaned on a regular basis.

Duct Work

Make sure all of your duct work is insulated properly to prevent any heating/cooling loss.

Air Leaks

Make sure there are no air leaks around your windows and doors.

Chimney

If you have a chimney, make sure the damper closely tightly.

Energy Star

Making sure your current system was installed to Energy Star guidelines will make sure it is operating at 100% efficiency.
By completing all of these energy saving tips you could potentially save as much as 50% in monthly energy costs. When adding up the monthly savings from these simple steps, you could pay for a new HVAC system in as little as 5 years.
Elliott Heating and Cooling
55 Industrial Blvd.
Pikeville, KY 41501
606-437-7368
606-444-6315
info@elliottcompanies.com
We've Got You Covered
Whatever the HVAC need, we've got you covered. Built on integrity and carried on outstanding service, quality and hard work, Elliott Heating and Cooling is the best choice for your next project.